MK-680 has been designed to compulsively make animals exercise and can be used for the studies of fatigue and nutrition. Electrical shock can be delivered to the animals without failure by the adoption of shock generator scrambler. Custom-made treadmills are available upon request. Programmable option is now available.
The standard color of the side panels and wall divider of the acrylic cage is "smoked brown". If you want "clear", please specify when ordering.
---
Main Features
Can be used for mice as well as rats. (5 lanes for rats, 10 lanes for mice)
Space-efficient.
Since the main unit weighs only 25 kg, it can be placed even on the table.
Belt speed and running time can be set digitally and displayed on the LCD.
Belt speed and inclination are adjustable.
Belt speed can be programmed up to ten(10) stages. (optional extra)
SPECIFICATIONS
Exercise Lane
Rats : 5 lanes
Mice : 10 lanes
Running Area
Rats : W90 x D550 x H120 mm x 5 lanes
Mice : W40 x D550 x H120 mm x 10 lanes
Belt Speed
1 - 70 m/min ( adjustable by 1 m/min steps)
Inclination
-5 - 25 degrees ( Continuously adjustable )
Electrical Shock
AC Scrambled Shock (Parallel Wired, All Lanes)
0 - 500V MAX (Continuously Adjustable)
Digital Setting Items
Belt Speed, Running Time
Dimensions
Main Unit : W600 x D700 x H350 mm
Controller : W400 x D300 x H140 mm
Weight
Main Unit : Approx. 25 kg
Controller : Approx. 10 kg
Power Consumption
Please specify your input voltage.
NOTE: MK-690S Treadmill for Rats & Mice  (2 lanes for rats, 4 lanes for mice) and MK-680AT/02 Air-Tight Treadmill for Rats or Mice are also available.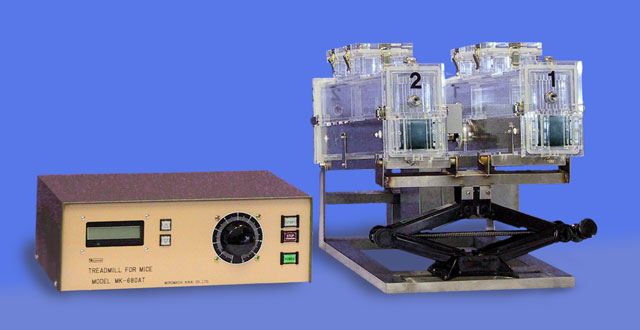 MK-680AT/02M& (Air-Tight Treadmill for Mice)
Air-tight treadmill is designed for use with O2/CO2 Metabolism Measuring System for Small Animals.
Specifications are subject to change without notice.