The best method to know proestrus stage
Powerful tool for the improvement of reproduction efficiency
Simple operation
Battery-operated
MK-12-B Rat Vaginal Impedance Checker has been designed to obtain a precise information on optimum day for mating during estrous cycle in the rats.
The electrical impedance of the epithelial cell layer of vaginal mucosa is measured at the frequency of 1 kHz by insertion of the probe into vagina. In the proestrus stage significantly high impedance is produced compared to that in the other stages of the estrous cycle. 3 kohm of impedance can be considered a standard indicating proestrus stage. Measuring range is 0 – 19.9kohm.
The conventional method known as vaginal smear method takes troublesome procedures such as taking smear, drying, dying and check-up using microscope. It really takes skill as well as time and labor.
Rat Vaginal Impedance Checker is a time & labor saving device on top of high reliability. Further, operation is so simple that even inexperienced personnel can easily use it.
NOTE: This product has been developed in cooperation with Chugai Pharmaceutical Co., Ltd.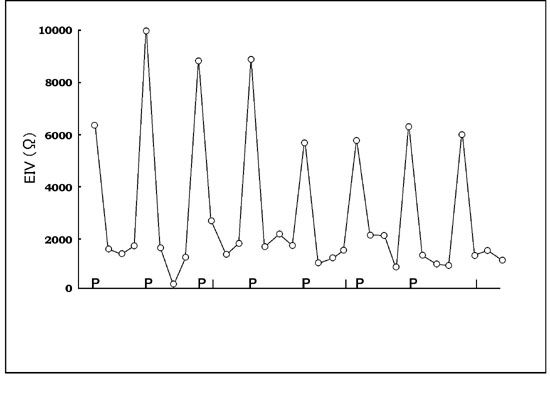 P: Proestrus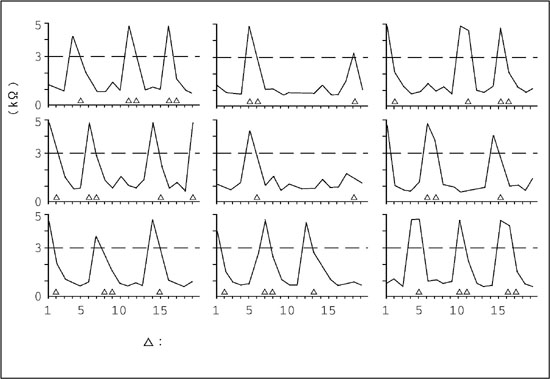 ∆: Changes of EIV during estrus cycle in the rats. EIV shows high value at proestrus stage and periodical alteration concurrently with estrus cycle
M. Koto (1987), Exp. Anim., 36(2), 195-198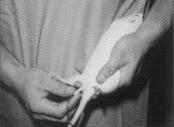 The continuous use of the MK-12-B Rat Vaginal Impedance Checker does not affect pregnancy rate or other reproduction achievements.
REFERENCES:
Bartos, L.(1975). Physiol. Bohemoslov., 24,427.
Bartos, L.(1977). Lab. Anim., 11,53-55
Bartos, L.(1977). Lab. Anim., 11,57-58
M..Koto(1987). Exp. Anim., 36(2),151-156.
M..Koto(1987). Exp. Anim., 36(2),195-198
Teradach,C.(1982). Sci. Tech. Anim. Lab.,7,49-84
The Standard System Includes:
MK-12-B Main Unit – 1
RP-45A Rat Probe – 1
CA-100A Cable – 1
Rechargeable Battery (Ni-MH) – 4
SPECIFICATIONS
| | |
| --- | --- |
| Measurement Range | 0 - 19.9 Kohm |
| Accuracy | (+)(-) 1 % (+)(-) 1 digit |
| Display | LCD |
| Battery | 2 Rechargeable Battery (Ni-MH) |
| Battery Life | 42 hours (When used continuously) |
| Dimensions | W96 x D145 x H25 mm |
| Weight | Approx. 180 g (Battery excluded) |
PROBE
| | |
| --- | --- |
| RP-45B Rat Probe | L55 x O.D.4.5 mm |
| MP-35A Mouse Probe | L50 x O.D.3.5 mm |
IMPORTANT NOTICE: The MK-12-B has been developed exclusively for rats. A mouse probe is available upon request, but test results cannnot be guaranteed.
Need more probes or cables?
The cables required vary depending on the version of the device, especially the main body and the probe.
Please check the connectors on both the device and the probe, and specify Type A or Type B when purchasing new cables.

Specifications are subject to change without notice.