Made by KISSEI COMTEC CO., LTD.
nano tag® is an Implantable Activity and Temperature Measuring Device for Animals.
Features Include
Activity and Temperature Recording

The animal's activity and body temperature are recorded by the nano tag®'s internal, three-axis accelerometer and temperature sensor.
The following charts show activity data collected using nano tag® compared to the same data collected using an Infrared activity measuring system.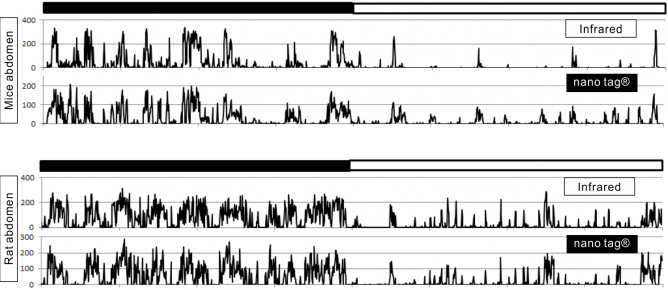 Data from NISSEI BILIS Co., Ltd. (Shiga Laboratory)
Record from multiple animals simultaneously
Multiple data recordings can be made from the same cage. This means that all of your animals can be implanted with a nano tag® device and activity and temperature data can be collected from all of them at the same time.
Waterproof
nano tag® is waterproof and can be safely implanted into your animals.
Continuously record for up to 60 days*
The nano tag® internal battery will last for up to 2 months. Data can be recorded not only continuously but also intermittently for 60 days by turning on/off the power externally. Additionally, "Timer stop mode" enables you to set up the device so that it will start/stop recording automatically at designated times.
* The battery life (60 days) is based on 24-hour measurement with a single 2 min/day communication for retrieval of data (using FeliCa®). Battery life is dependent on a number of factors pertaining to use.
FeliCa® communication
Recorded data are stored in the nano tag® device. Stored data is retrieved into your PC by FeliCa® communication. A simple, light touch of the RFID card reader/writer(PaSoRi®) on the nano tag®, can be used to start/stop data recording. Recorded data is retrieved while the nano tag® is implanted in animal body*.
* FeliCa® communication is made by very low level radio wave. When implanting nano tag®, please note the following.
When implanting subcutaneously, ensure that the antenna is implanted facing outward. If the antenna faces inward, the FeliCa® communication may not be available. The battery side, where the ID number is printed, should not face outward.
Antenna surface
Battery surface
With a USB cable, you can place the PaSoRi® closer to the animal to retrieve data.
Contactless RFID reader/writer (FeliCa® system)
Please note that FeliCa® communication is not available when nano tag® is implanted intraperitoneally. This is because the RFID card reader cannot be positioned close enough to the device. When implanting nano tag® intraperitoneally, start the recording before the implantation. In order to retrieve the data or stop recording the nano tag® must first be retrieved from the body.
For retrieving data from nano tag®, the "nanotag/Viewer" software and an RFID card reader/writer are required and must be purchased separately.
Small and Lightweight
The nano tag® is about the size of a dime (17.9mm dia.) and weights only 2.7g (including the battery). To make it lightweight and waterproof, nano tag® is a single-use device or disposable. The battery is unreplaceable.
Activity measuring method
Activity is defined as Cross Count Data.
[ Cross Count ]
Counts the number of times XYZ acceleration vector synthesized waveform crosses the threshold levels from bottom to top per Recording Interval(Cross Count).

Recording Intervals and Recordable Time (in days)
| | | | | | |
| --- | --- | --- | --- | --- | --- |
| Recording Interval | 12sec | 30sec | 1min | 2min | 4min |
| Recordable Time | 4days | 10days | 20days | 38days | 60days |
For example, if you record both the activity and the temperature at 1 minute intervals*1, you can record the data for up to 20 days*2. In this setting, the data will be recorded every 1 minute.
*1 The intervals for the activity and for the temperature can be set separately. (For example, you can record the activity at 1 minute intervals and the temperature at 2 minute intervals at the same time)
*2 The above Recordable Time indicates approximate times estimated from both the internal memory capacity and the internal battery capacity. If the data are retrieved to PC at suitable times before the memory becomes full, the device can record continuously for up to 60 days.
Recording Modes
The following 3 modes are available.
"Loop mode" – Overwrite existing data from the beginning when the memory becomes full
"Memory – full stop mode" – Data is stored sequentially until the memory becomes full
"Timer start/stop mode" – Start/stop at designated times
nano tag® Viewer Program "nanotag/Viewer"
The nanotag/Viewer enables you to change the setting, retrieve data, make a graph, and output to a CSV data file.
[ Main features ]
Change settings of nano tag®
Control start/stop of data acquisition
Retrieve data, Reset
Make graphs
Output to CSV data files
Specifications
Detection method
Three-axis accelerometer, Temperature sensor
Communication system
Near Field Communication (FeliCa® system)
Communication distance
Approximately 10mm
Time accuracy
±60 seconds / month
Internal battery
CR1220 (unreplaceable)
Battery life
Approximately 2 months (under 24-hour measurement with a single 2 min/day communication for retrieval of data using FeliCa®)
Recording mode
1. Loop mode
2. Memory - full stop mode
3. Timer start/stop mode
Activity data
Cross Count
Temperature
10 - 45.875℃
Measurable temperature range : 15.875℃
(Resolution : 0.0625℃ Accuracy : ±0.5℃)
Material
ABS, Epoxy
Size
18.8 x 14.2 x 7.1 mm
Weight
Approximately 2.7g
nano tag® is a registered trademark of ACOS CO., LTD.
FeliCa® is a registered trademark of Sony Corporation.
FeliCa® is a contactless RFID smart card system from Sony Corporation.
PaSoRi® is a registered trademark of Sony Corporation.
Software
nano tag® viewer software
This software is necessary to use nano tag®
Peripheral equipment
Contactless RFID card reader/writer "PaSoRi®" [Sony Corporation]
RC-S380(with 1m extension cable)
USB extension cable(3m)
For Evaluation
Activity Measuring Device Demonstration version
This is an evaluation kit. 1 nano tag® and nano tag® Viewer Program(Demo version) are included.
An RFID card reader/writer is required and available separately.
* The Viewer software (Demo version) is available only with the enclosed nano tag® (it does not operate with other nano tag®).
External appearance and the specifications are subject to change without notice.