David Kopf Model 962 Dual Ultra Precise Small Animal Stereotaxic Instrument is designed to bring new standards of positioning precisionto the small animal stereotaxic. The instrument consists of a rugged "U" frame manufactured by Kopf Instruments since 1963. The frame is mounted to the 10″ x 14″ base plate and is elevated to bring ear bar height to 50mm. The Model 920 Rat Adaptor (including adaptor plate and Model 957 Rat Ear Bars) is supplied with the instrument. Ear bar slots on the "U" frame have 0.1mm verniers for ease in centering an animal.
Affixed to the "U" frame are two Model 961 Ultra Precise Electrode Manipulators (including Model 1770 Electrode Holders). Very close tolerances are held in production, with all dovetail slides precision ground. This, along with backlash-free drive screws and the sheer mass of the manipulators assures the most accurate placement of electrodes as well as a degree of repeatability impossible to find in any other carrier or manipulator. Screws are rendered backlash-free by use of split spring-loaded nuts. Screws have 1.0mm of travel per revolution. Slides have a metric scale. In addition, a large diameter dial is calibrated into 10 micron increments for ease of settings. Large bearing surfaces coupled with unique clamp arrangements make these the most rigid, versatile and accurate manipulators available.
The vertical and lateral slides of the Model 961 are mounted on a massive universal joint that is calibrated in two planes. This universal joint permits any angular setting. Vertical, lateral and A-P movement on the manipulator is 80mm. The end of lateral slide is machined to accommodate all standard electrode holders.
With appropriate accessories such as the Model 925 Swivel Mount, the Model 962 can be used for cats, squirrel monkeys, spider monkeys, rabbits, rats, weanling rats, mice, guinea pigs, turtles, chickens, pigeons, most small birds, small alligators and frogs. Customized adaptors are also available for other animals.
NOTE: Single Ultra Precise Small Animal Stereotaxic Instrument Model 963 is also available.
OPTIONAL ACCESSORIES
Model 925 Swivel Mount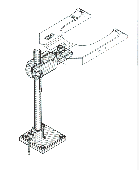 is needed for cats, rabbits, pigeons, monkeys and other larger animals. It allows the "U" frame to be raised and lowered, rotated 360 degrees and tilted up and down in 10 degree increments. The ear bar center can be raised as high as 12 inches. The unit consists of a 3-1/2″ x 3-1/2″ Base Plate (Model 1210), mounting plug, screw, tee handle, washer, post and allen wrench.
The Model 935 Electrode Angle Calibrator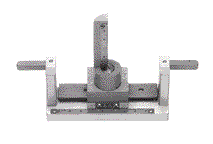 proves a quick and reliable method for the accurate stereotaxic placement of electrodes at any angle including right and compound angles.
Adapted exclusively for use with the 900 Series Stereotaxics, this unit has a lateral slide and rotating vertical post mounted on a zeroing point.
The lateral slide has a 0.1mm vernier attached to a moveable slide block.
When the block is set at zero, the zeroing point of the slide is at ear bar zero.
Model 943 Ear Bar Adaptor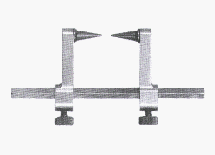 allows the animal to be positioned outside the stereotaxic frame and locked in place. The animal is then easily positioned into the stereotaxic frame.
The Model 943 Ear Bar Adaptor accepts the rat ear bars only, but can be used with any Model Kopf Stereotaxic Frame.
Model 950 Removable Zero Point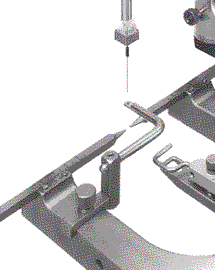 allows you to set electrodes while the animal is in the instrument. The vertical distance of this zero point is 30mm above ear bar zero and can be used with larger animals. Designed exclusively for the 900 Series Stereotaxics.
 ELECTRODE HOLDERS & CLAMPING DEVICES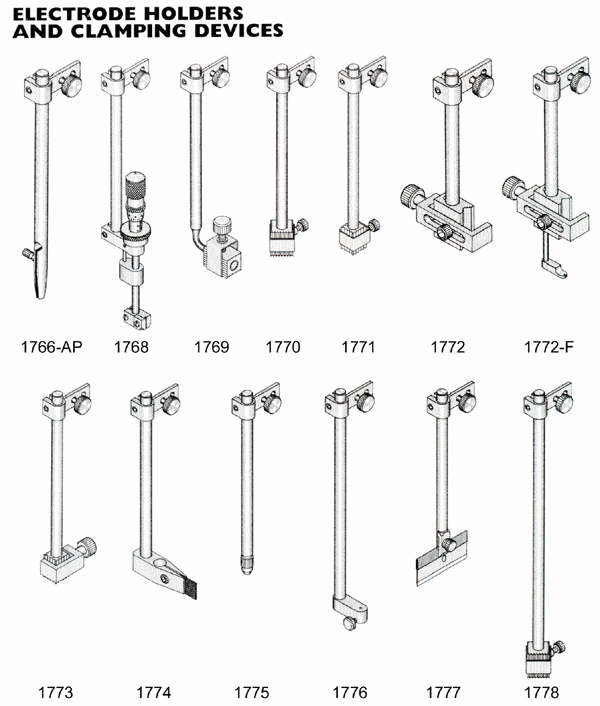 Model 1770 Standard Electrode Holder with Corner Clamp is provided with each electrode manipulator unless otherwise specified It holdselectrodes from 0.4mm to 1.3mm.
Size: 16.5cmL x 7.9mm rod diameter
Model 1771 Electrode Holder with Straight Clamp holds electrodes from 0.4mm to 3.4mm.
Size: 16.5cmL x 7.9mm rod diameter
Model 1772 Universal Holder places syringes, large diameter electrodes, electrode holder or drill handpieces stereotaxically. It holds devices from 7.4mm to 12mm in diameter. The Model 1772 consists of a mounting bracket and shaft with a vertical "V" shaped recess and an adjustable open-side clamp.
Size: 11.8cmL x 7.9mm rod diameter
Model 1773 Electrode Holder with Removable Open-Side Clamp is used for chronic work when cementing electrodes in place.
Size: 16.5cmL x 7.9mm rod diameter
Model 1774 Wedge Holder with Removable Flag is used for cementing electrodes to a plastic flag that is held with a tapered clamp. Because of its design, a great number of electrodes can be placed very closely together.
Size: 16.5cmL x 7.9mm rod diameter
Model 1775 Collet Electrode Holder with insulated collet, holds from 0 to 1.1mm diameter electrodes.
Size: 15.7cmL x 7.9mm rod diameter
Model 1776 Electrode Holder has a stainless steel end with a set screw. Hole size from 1.5mm to 1.6mm are available. Please specify size required. Model 1776A is exclusively for Alzet Osmotic Pump.
Size: 16.5cmL x 7.9mm rod diameterModel 1777 Razor Blade Holder is a clamp mounted on a shaft that fits the standard Model 1770 Electrode Holder. Therefore, it can be used with any Kopf Electrode Manipulator.
Size: 15cmL x 7.9mm rod diameter
Model 1779 RF Electrode Holder is specifically designed to hold the TCZ electrode for use with Radionics Research Lesion Generator Model RFG-4A.
Size: 16.5cmL x 7.9mm rod diameter